Rustic or log cabin decorating can seem like an overwhelming task but don't let it get you down. Start small using rustic décor elements but plan big with an entire log cabin interior design laid out. Break it down into rooms or living areas and take it step by step.
Plan Big with Log Home Interior Design Themes
Start with choosing an overall décor theme. Many people like the wildlife themes for cabin decorating, like moose, bear, wolves, elk or ducks. If you go this route make sure you really love it because it becomes very easy to select log cabin decorating elements with moose or bear and pretty soon you can be overrun with woodland animals in your cabin. Nature themes include pine cones, pine trees and maple leafs.
Other log cabin interior design themes are areas and eras such as Lake Cottage décor, Western Ranch, the Lodge look, North Woods, Southwestern and Adirondack style. Each of these cabin decorating themes looks great and many rustic décor accents and furnishings can be found in these styles for your country lodge or log cabin.
Don't be afraid to mix them up the way you like it. Pick and choose different rustic design elements from various sources; maybe decorate different rooms in your cabin in different rustic themes to give that rugged rustic country appeal.
Another idea for a log home interior design theme would be an eclectic mix of antiques and imported items. This really opens things up and almost anything that interests you can be incorporated into your overall log cabin decorating plan.
Start Small with Log Cabin Decorating Elements
Start with individual cabin decorations like rustic lighting fixtures. A cabin-style combination light and fan can anchor an entire room. Or plan around different dominating features, like the fireplace. The stone hearth and log mantle can suggest cabin decorating themes, like birch-bark canoes and pine trees, bear switch plates and moose coat hooks, metal art ceiling lights, a wrought iron fireplace screen silhouette or twig furniture.
Or start with a small room – the smallest room in the house makes planning easier to visualize. Make your bathrooms stand out with rustic hardware or wrought iron towel bars. Add a substantial outdoor-themed mirror and bear or moose light switch covers. Rustic bathroom vanity lighting sets the mood.
Colors and Textures
Log cabin interior design can be overwhelmed by the monolithic look of wood everywhere you turn. With log walls, hardwood floors and log or paneling on the ceilings, the dominating visual aspect is wood. Some people like this, but others would rather have some colors thrown in to the mix to set off the beautiful golden wood tones of the logs and timbers.
Don't be afraid to install some drywall on your interior walls. Use this as a blank canvas to add color to a room. Add a texture to the walls with plaster and give it some depth. A bright color will reflect the cabin lighting and brighten the entire place. Muted earth tones blend well with the log cabin look and provide some contrast with the rich tones of the logs.
Light Fixtures and Lighting
Log cabin light fixtures take on a new role with their ability to set a mood or enhance a rustic décor theme. Log homes are not ordinary and their light fixtures should not be either. The high cathedral ceilings of a Great Room call for large, dramatic light fixtures such as an antler chandelier, a cedar log chandelier or a birch bark canoe chandelier that focus the eye and make a statement. Use pine cone wall sconces or twig wall lamps to continue the natural rustic décor on stairs. Rustic table lamps and dining lights round out your theme.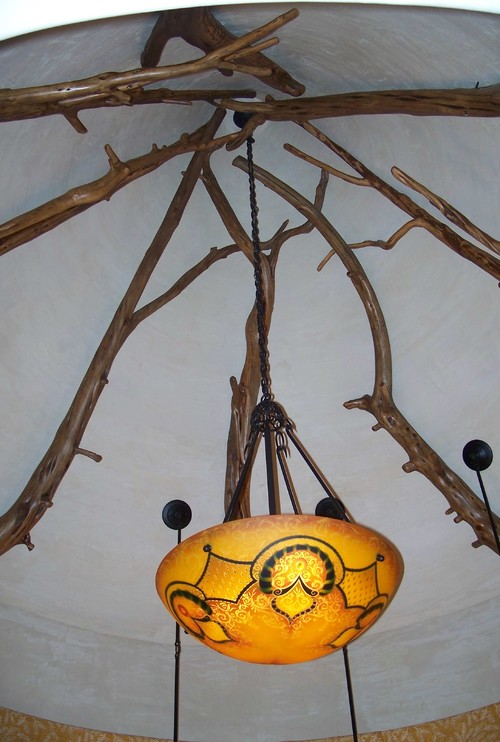 Fireplaces
What would a log cabin be without a fireplace? Nothing sums up the rustic coziness of log home living like a stone fireplace set against logs and timbers. While there are many factors involved in designing the perfect fireplace, the most noticeable features will be the hearth and mantle. Using artificial or manufactured stone for the hearth facing can reduce the weight load by a factor of 6 or 7.
Choosing a mantle can be an intensely personal choice and a key feature of your log cabin decorating, but you can rarely go wrong with using a massive timber made of reclaimed wood, or a red cedar log sawn in half and resting on two log corbels, or a rough-sawn slice of a log with the bark side showing, or stone slabs set on a recess above the fireplace. This is a chance to let your imagination free, but remember that there are minimum clearances required for flammable materials.
Iron Railings for Log Cabins
An ideal combination in nearly every log cabin decorating theme is wrought iron with the logs and timbers. They complement each other with their strength and rustic simplicity. Iron railings contrast nicely with the lighter wood inside and anchor down the feeling of solidity and permanence.
Log Cabin Flooring
Your floors are one of your largest log cabin decorating elements, but their importance is often overlooked or minimized. The choices you make for your log home flooring will partly dictate the overall design and look of your cabin. You can make the flooring a significant décor item or you can choose to make your flooring become a background for show pieces like soft leather couches, rustic wood tables and wrought iron benches.
You can make a small room feel larger by using flooring that is lighter in color than the walls. Mix up your cabin flooring with stone or tile at the entrances that get the most wear. Blend or contrast this with hardwood flooring and use area rugs to soften the hardwood and help define interior spaces. Spice it up with cowhide rugs and pillows.
Kitchen Cabinet and Bathroom Vanity Hardware
An easy upgrade to your log home interior design is replacing your kitchen cabinet hardware and your bathroom vanity hardware. This is easily done with just a screwdriver and you can choose from dozens of different rustic décor styles such as bear and moose drawer pulls, brass pine cone knobs and bear silhouette door knob backing plates.

Log cabin decorating or log home interior design can be as simple as choosing a few rustic décor elements to enhance your cabin decorating or as grand as selecting an overall theme for your log cabin interior design and ensuring that everything is designed and crafted around that theme.
The Author:
Brian Gabriel is a licensed contractor, mechanical engineer and log home builder in the mountains of western North Carolina. He is the author and designer of the website Log Cabin Connection, created to offer advice, tips, ideas and resources related to log cabins. https://log-cabin-connection.com/