According to the research done by the Department of Wood Science and Forest Products from Virginia Tech University, nearly 40 percent of all the hardwood that are harvested in the United States is used for cargo crates. On the other hand, about 20 percent of all the wood wastes in the landfills of U.S are from tossed out crates.
In order to reduce the use of wood, a lot of companies have been opting for shipping crates and pallets which are made from other materials like metal, and cardboard. There are other companies that also offer programs to take back the used wood pallets to help make recycling easier. However, an overwhelming amount of these shipping crates and pallets still make it to landfills every year. By chance, these unwanted and trashed pallets are frequently offered by some businesses at little or no cost at all. These are great sources of a low cost yet high quality wood for a home décor project.
To help in this matter, you can conserve the rejected wood crates and pallets from the establishments in your place for use in storage solutions, new furniture, garden accessories and other uses. In this way, not only will it let you save money but something new is added to your reuse stockpile by making use of something that should have gone to waste. Here are some ways to reuse wooden crates.
Bookshelves
These wooden crates are perfect for making a bookshelf. You can stack and mount them against the wall, and ideas on how to make it look good are endless. Painting, reshaping, alternating bricks and crates, a good time to test your creativity. This method of reusing crates is common with apartment tenants and minimalist designers. Nevertheless, if this was done with some art and style, the bookcase made out of stacked wooden boxes and crates can add personality whatever room it will be used in.
Planters for Flowers or Herbs
It is astonishing how old and worn-out crates can look so gorgeous and pretty when beautiful plants are grown in them. Utilizing a wooden pallet as a planter will serve as an out-of-the-ordinary, chic and convenient addition for any part of your house. Just fill up the crate with topsoil and plant your herbs or plants in it. Be sure to place it somewhere that has lost of sunlight.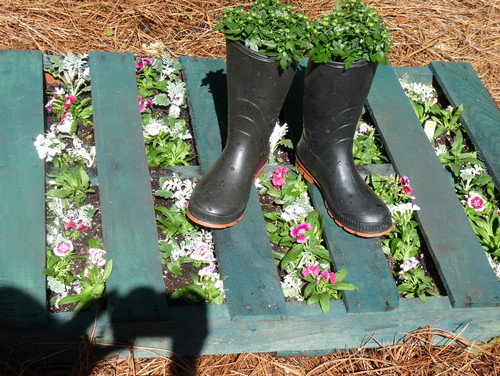 Wedding Décor
With their ease of adaptability, wood crates are also greatly incorporated and used for wedding decorations these days. The mini crates can be used as centerpieces for reception tables where floral arrangements are incorporated, adornments for wedding favors or dessert bar, or used for display items for wedding items such as cakes or the flowers that go along the aisle and altar.
Feeders for Pets
Wooden boxes can be transformed into a pet bowl. If it has a closed top, cut-out two circle holes and place metal bowls in each hole. One for food and one for water.
Wall-Mounted Display Shelves
Mount wood pallets on your wall. These can serve as decorative display shelving. Arrange them in a rectangular, square or even an odd shape and display your favorite dinnerware on them.
A great place to find these vintage wooden crates is in a flea market. Recycling them into something useful and beautiful is a cool way to help reduce waste.
The Author:
The writer is a furniture and interior designer.